The item was added to your waitlist!
Use the code WILD30 for 30% OFF the WILD30 collection
SIZE CHART
Hey friend! Let's be real here. We can all agree a Large is not the same across the board with all brands, right? It depends on the style, the cut, the material... you get it. Because of that we don't think it's best to try and give you a blanket size chart since it won't be accurate for everything! Instead, we do a full try-on fit video for every item and you can find those videos on our FREE mobile app! When you go into the app every item will have a 'play' button. Click that and then you'll find another play button by itself or with the 'featured live' label. Tap that for a full video fit review!
To help even further you can find Alex + Mary's sizing below and hopefully use them as reference to find your perfect fit!
Alex is our main model and one of the owners!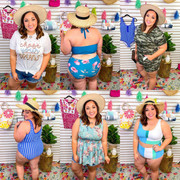 Find her measurements below:
Bust - 45"
Waist 39.5"
Hips - 55"
Shoulders 19" across
Height - 5'4"
Bra - 40C
Weight 240lbs
29 years old